Massage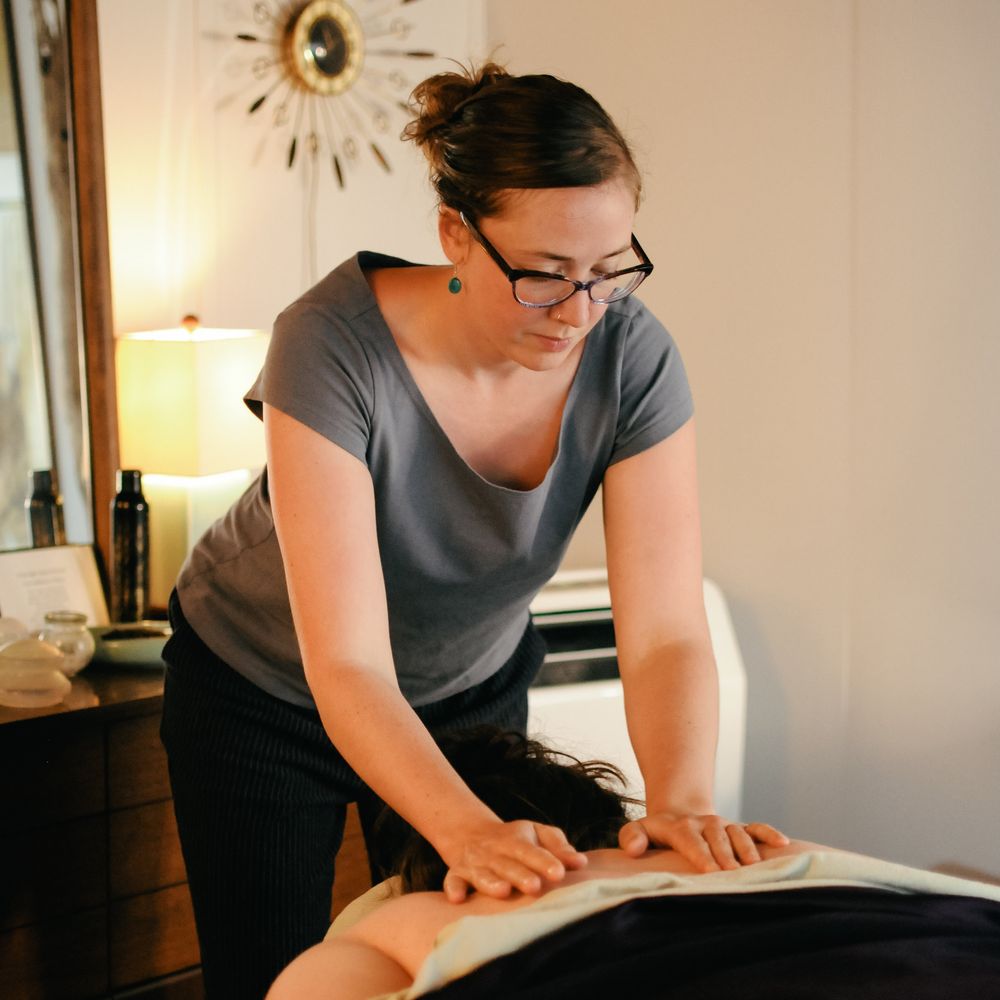 Massage Therapy
License #13119
I first came to bodywork in college when I was studying cello performance. I was having issues with back pain, discomfort, and stiffness, and I found relief through studying the Alexander technique. We studied anatomy, body mechanics, and the connection of the mind and body. This started my love and fascination with the mind-body connection and the potential of profound ease in moving and living.  I then went on to study massage therapy as a way to deepen and share with others the potential of living with ease and resilience!  
I graduated from Asheville School of Massage and Yoga in 2013.  Through my massage I intend to address specific muscle groups to relieve stress and tension while also creating space for experiences of deep states of relaxation.  The wisdom of the body and its capacity to heal itself is incredible, and when we give ourselves time to just be, we give our bodies a chance to rest and repair from all the activity of daily life.
My work as a teacher and practitioner of the Alexander Technique has deepened my ability to be with myself and others non judgmentally and to see the potential in anybody, in myself, and in any situation.  This way of coming more fully into the present moment helps create a space for contentment and peace-a place to be nourished by just being.  My Qigong practice also informs my work as a massage therapist by grounding me, and by enhancing my intuition of what is going on in whoever I am working with.  My hope is that whoever I am working with feels more ease in their body, more grounded, integrated, lighter and ready to face the world with a full heart and a hearty chuckle! 
Areas of Study
2016-2020: Alexander Technique Training, 1600 Hour Teacher Training, Boone, NC
2019: 21 NCTMB Apporved Hours of Elemental CranioSacral training with Brian Loftin, Ahseville, NC
​
2017: 16 NCBTMB Approved Hours of Ortho-Bionomy training with Jessica Mark, Asheville, NC
2017: 3 NCTMB Approved Hours of Ethics with Vicki Peltz, Boone, NC
2016: 24 NCBTMB Approved Hours of Thai Massage training with Michael Sitzer, Asheville, NC
2016: 3 NCBTMB Approved Hours of Ethics with Pripo Teplitsky, Asheville, NC
2014: 24 NCBTMB Approved Hours of Qigong training, Asheville NC
2014: 3 NCBTMB Approved Hours of Ethics with Pripo Teplitsky, Asheville, NC
2010: B.A. in Music, University of Iowa, Iowa City, IA
2013: 675 Hour Therapeutic MassageCertificate, Asheville School of Massage and Yoga,  Asheville, NC
​
Bachelors of Art in Music, University of Iowa, Iowa City, IA